Classification in Zones
The practice has been established of dividing potentially explosive atmospheres into zones. This classification takes the different dangers from explosive atmospheres into account and allows explosion protection measures to be taken which reflect the situation both from the point of view of safety engineering and of economic efficiency. For the European community, the zone definitions are uniformly provided in Directive 1999/92/EC. It must be applied with technical understanding of the specific situation.
IEC 60079-10-1 assumes an approximately similar classification for gases and vapours which will also apply to future facilities constructed in accordance with the US standard NEC 505. IEC 60079-10-2 provides support for the zone classification with dusts.
Potentially explosive atmospheres are classified depending on the frequency and duration of the explosive atmosphere.
This classification provides the scope of the measures to be taken according to Annex II section A in the Directive 1999/92/EC in conjunction with Annex I of the Directive 94/9/EC.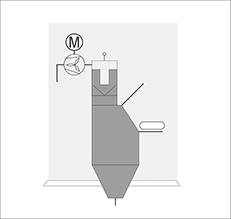 Classification of hazardous places
| | |
| --- | --- |
| Zone 0 | A place in which an explosive atmosphere consisting of a mixture with air of flammable substances in the form of gas, vapour or mist is present continuously or for long periods or frequently. |
| Zone 1 | A place in which an explosive atmosphere consisting of a mixture with air of flammable substances in the form of gas, vapour or mist is likely to occur in normal operation occasionally. |
| Zone 2 | A place in which an explosive atmosphere consisting of a mixture with air of flammable substances in the form of gas, vapour or mist is not likely to occur in normal operation but, if it does occur, will persist for a short period only. |
|   |   |
| Zone 20 | A place in which an explosive atmosphere in the form of a cloud of combustible dust in air is present continuously, or for long periods or frequently. |
| Zone 21 | A place in which an explosive atmosphere in the form of a cloud of combustible dust in air is likely to occur in normal operation occasionally. |
| Zone 22 | A place in which an explosive atmosphere in the form of a cloud of combustible dust in air is not likely to occur in normal operation but, if it does occur, will persist for a short period only. |
Designated area of use of devices and components


Ex Zaščita